Married men and women are looking for a fling with no complications!
Data collected during registration is for the use of the company Global Digital Média SA, the data controller, and its partners. It will be used to ensure that you are shown profiles that match your personality. You have the right to challenge, rectify, complete, update, block or delete the data concerning you, or to object to the processing of said data or to its use for marketing purposes by contacting us at the address mentioned in the General Conditions of Use.
Discreet & secure services
100% secret meetings
Privacy protected
54%

of men

46%

of women

They're talking about cheating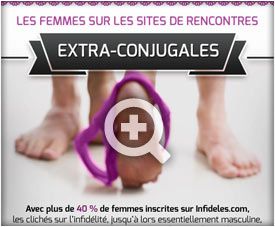 Discover the latest infographs produced by the extramarital dating site www.infideles.com.
Cette étude met en lumière le phénomène de l'infidélité au féminin qui n'est aujourd'hui plus forcément tabou. Que ce soit pour vivre une aventure avec un amant, se sentir désirées ou pour sortir de la monotonie du quotidien, les femmes n'hésitent plus à aller sur internet pour tromper leur mari. L'infidélité n'est plus seulement masculine ! Découvrez l'infographie sur l'infidélité au féminin.
Discreet meetings
Infideles.com place la discrétion de vos échanges au centre de nos préoccupations. Pour que le secret de vos rencontres adultères soit préservé, nous nous engageons à ne divulguer en aucun cas vos informations personnelles. Chaque jour des milliers de femmes et d'hommes mariés nous font confiance pour trouver une aventure discrète ou un 5 à 7 coquin. Sur infideles.com, votre relation extra- conjugale ne sera jamais dévoilée.
Break all your taboos
Infideles.com vous permet à vous, internaute, de redécouvrir les plaisirs de nouvelles rencontres... Vos désirs et envies, trop souvent refoulés, peuvent enfin s'exprimer. En quelques instants, trouvez des profils de personnes mariées près de chez vous. Pour une relation courte ou suivie, offrez-vous enfin le bonheur d'une étreinte enflammée et de l'alchimie de deux corps...
Real profiles, real encounters
Pour vous permettre de faire des rencontres en toute sécurité, les profils présents sur Infideles.com sont vérifiés à la main par une équipe de modérateurs. Cette politique de sélection de profils nous permet de vous garantir la qualité des rencontres que vous ferez sur le site. Vous n'avez plus qu'à choisir la personne qui vous séduit le plus et organiser votre premier rendez-vous entre infidèles.
What does an unfaithful man look for?
Souvent plus présents que les femmes sur les sites de rencontres, les hommes infidèles sont à la recherche d'une aventure discrète pour assouvir leurs désirs. Parfois frustrés dans leur vie de couple ou tout simplement hédonistes, amoureux des plaisirs sensuels, ils recherchent le frisson et l'adrénaline. Que ce soit pour une nuit ou pour une relation suivie, l'homme marié est un formidable partenaire sexuel avec qui entretenir une relation. Lui résisterez-vous ?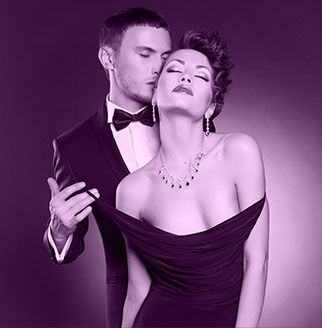 What is a cheating woman looking for?
Une femme qui trompe son mari peut avoir de multiples raisons d'être attirée par un autre homme. Quand la monotonie et l'ennui gagnent le couple, prendre un amant s'impose comme la solution pour s'accorder des moments de plaisir. S'apprêter pour un premier rendez-vous, sentir monter l'excitation, se découvrir... Toujours en quête de plaisirs, les femmes d'aujourd'hui sont bien dans leur époque et revendiquent cette envie d'être désirées. Place à la séduction...