Married men and women are looking for a fling with no complications!
Data collected during registration is for the use of the company Gironde Commerce, the data controller, and its partners. It will be used to ensure that you are shown profiles that match your personality. You have the right to challenge, rectify, complete, update, block or delete the data concerning you, or to object to the processing of said data or to its use for marketing purposes by contacting us at the address mentioned in the General Conditions of Use.
Discreet & secure services
100% secret meetings
Privacy protected
54%

of men

46%

of women

They're talking about cheating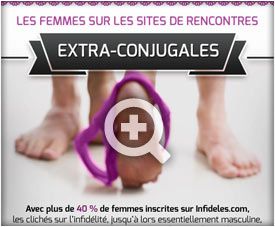 Discover the latest infographs produced by the extramarital dating site www.infideles.com.
This study highlights the phenomenon of female infidelity, which is no longer considered taboo. Whether it is to have an adventure with a lover, to feel desired or to get away from the monotony of everyday life, women no longer hesitate to go on the internet to cheat on their husbands. Infidelity is no longer just for men! Discover the infographic on female infidelity.
Discreet meetings
Infideles.com makes the discretion of your exchanges our main concern. To ensure that the confidentiality of your adulterous encounters is respected, we undertake not to disclose your personal information under any circumstances. Every day, thousands of married men and women trust us to find a discreet adventure or a sex dating in the afternoon. On infideles.com, your extra-marital relationship will never be revealed.
Break all your taboos
Infideles.com allows you to rediscover the pleasures dating new people... Now you can finally fulfil your repressed needs and desires. In just a few minutes, you can find profiles of married people near you. Whether for short or long-term relationships, let yourself go and enjoy the chemistry between two bodies...
Real profiles, real encounters
To ensure that you can meet people safely, the profiles on Infideles.com are hand checked by a team of moderators. This profile selection policy allows us to guarantee the quality of the encounters you will make on the site. All you have to do is choose the person who appeals to you the most and organise your first date between cheaters.
What does an unfaithful man look for?
Often more present than women on dating sites, unfaithful men are looking for a discreet adventure to satisfy their desires. Sometimes frustrated in their relationship or simply hedonistic, in love with sensual pleasures, they are looking for thrills and adrenaline. Whether it's for one night or for an ongoing relationship, the married man is a great sexual partner to have a relationship with. Will you resist him?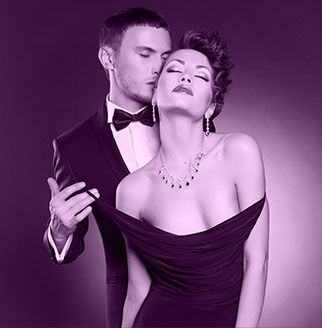 What is a cheating woman looking for?
A woman who cheats on her husband may have many reasons to be attracted to another man. When monotony and boredom take over the couple, taking a lover is the solution to give each other moments of pleasure. Getting ready for a first date, feeling the excitement, discovering each other... Always in search of pleasures, today's women are very much in tune with the times and claim this need to be desired. Make way for seduction...